Carbon fiber skinning
Required tools - brush, nitrile gloves and mask.
REQUIRED MATERIALS:
1. Basecoat
2. Carbon fiber fabric 240g/m2
3. Epoxy resin for hand lamination
Carbon fiber skinning is a simple technology for wrapping parts and details with real carbon fiber fabric for decorative purposes. You do not need a mould for this method, because you will use your current detail for skinning.
Before you start make sure that the temperature in your workshop is above 20°C, because the resin needs room temperature in order to be cured.
Step 1: PREPARE
You need to prepare your detail for the resin. First make sure you clean the part very well with degreaser or acetone. If the part is made of plastic be careful not to melt it down with agressive chemicals. Then make sure you have all of the materials - basecoat, epoxy resin and carbon fiber fabric.
Step 2: Basecoat (optional)
When you are sure that the surface is dry and clean you can begin preparing the epoxy resin or the basecoat. The basecoat is a special type of epoxy resin with delayed gel time, pre-coloured in black. If you decide to use it it will be easier for you to apply carbon fiber fabric later. If you decide not to use it just apply 1 layer of epoxy resin on the part before you apply the fabric. Mixing of the basecoat is 3:1, which means that for 75g of basecoat you need to add 25g of hardener.
Mix some quantity of the basecoat with the hardener and apply 1 thin layer of it onto the part. Wait for 2 hours, then check if the layer is sticky, but not messy. If it is tacky you can proceed with applying the fabric.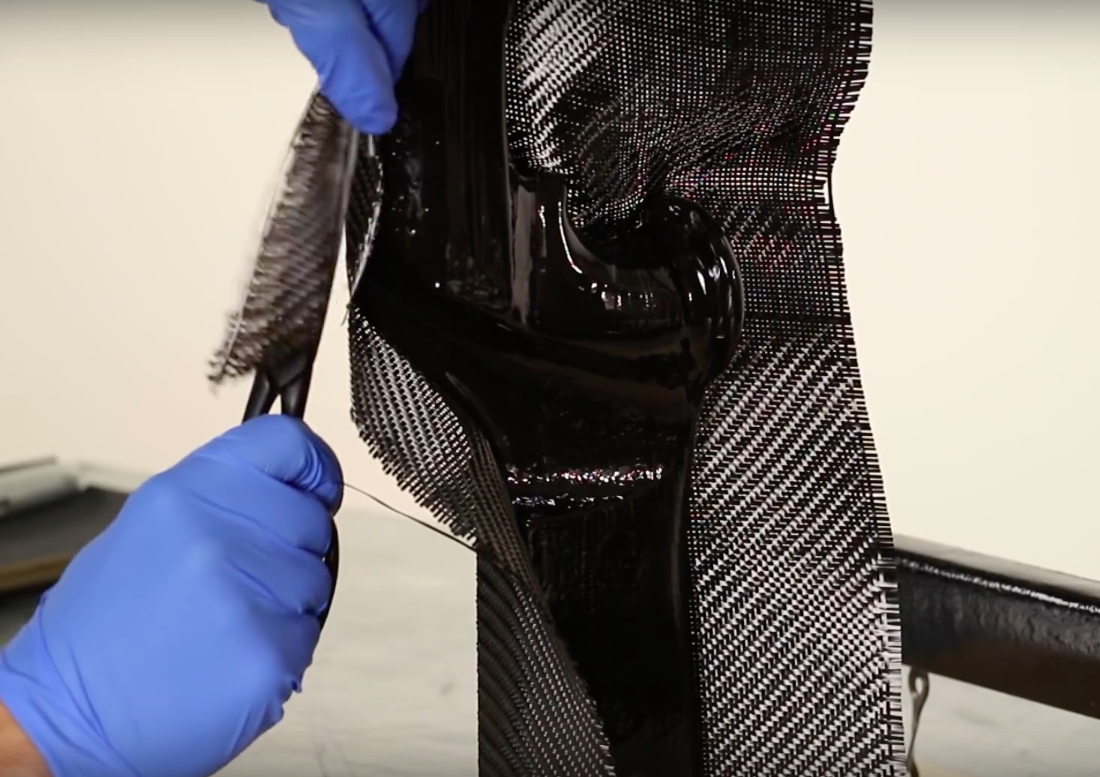 ​
Step 3: Carbon fiber fabric
Prepare a piece of carbon fiber fabric and apply it onto the tacky surface of the detail. Cut the unnecessary fabric with scissors and make sure there is no distortion of the fabric because it will ruin the beautiful surface.
Step 4: Epoxy resin
Mix the epoxy resin accordingly its mixing ratio. In our case it is 100:40, which means that for 100g of epoxy resin you should add 40g of hardener. Stir it very well in a can and apply 1 thick layer with a brush. Wait for 40-50 minutes and apply second layer of resin. This is necessary because carbon fabric has tiny holes in it which need to be well filled. Hot gun may be helpful in order to cure the part more quickly.​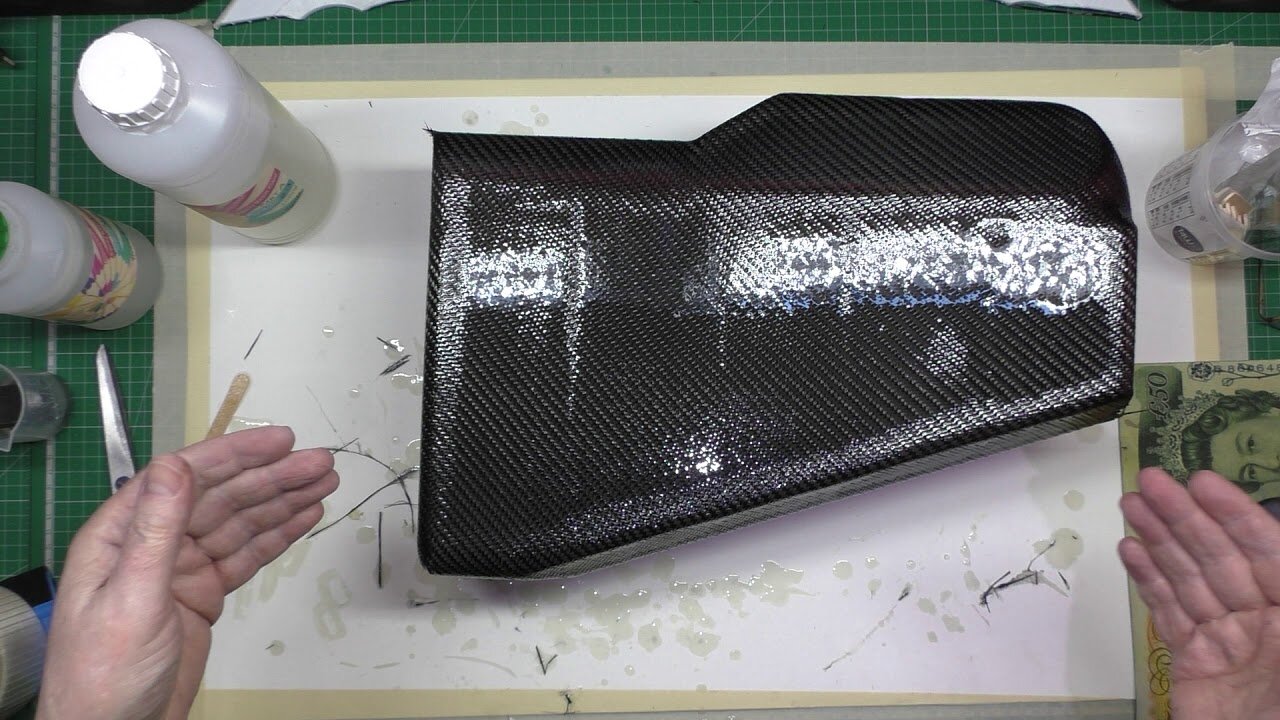 Step 5: Sanding
After 24 hours of room temperature curing the part has to be sanded so all the tiny holes are filled and even. If you notice that there are still holes additional layer of resin may be required.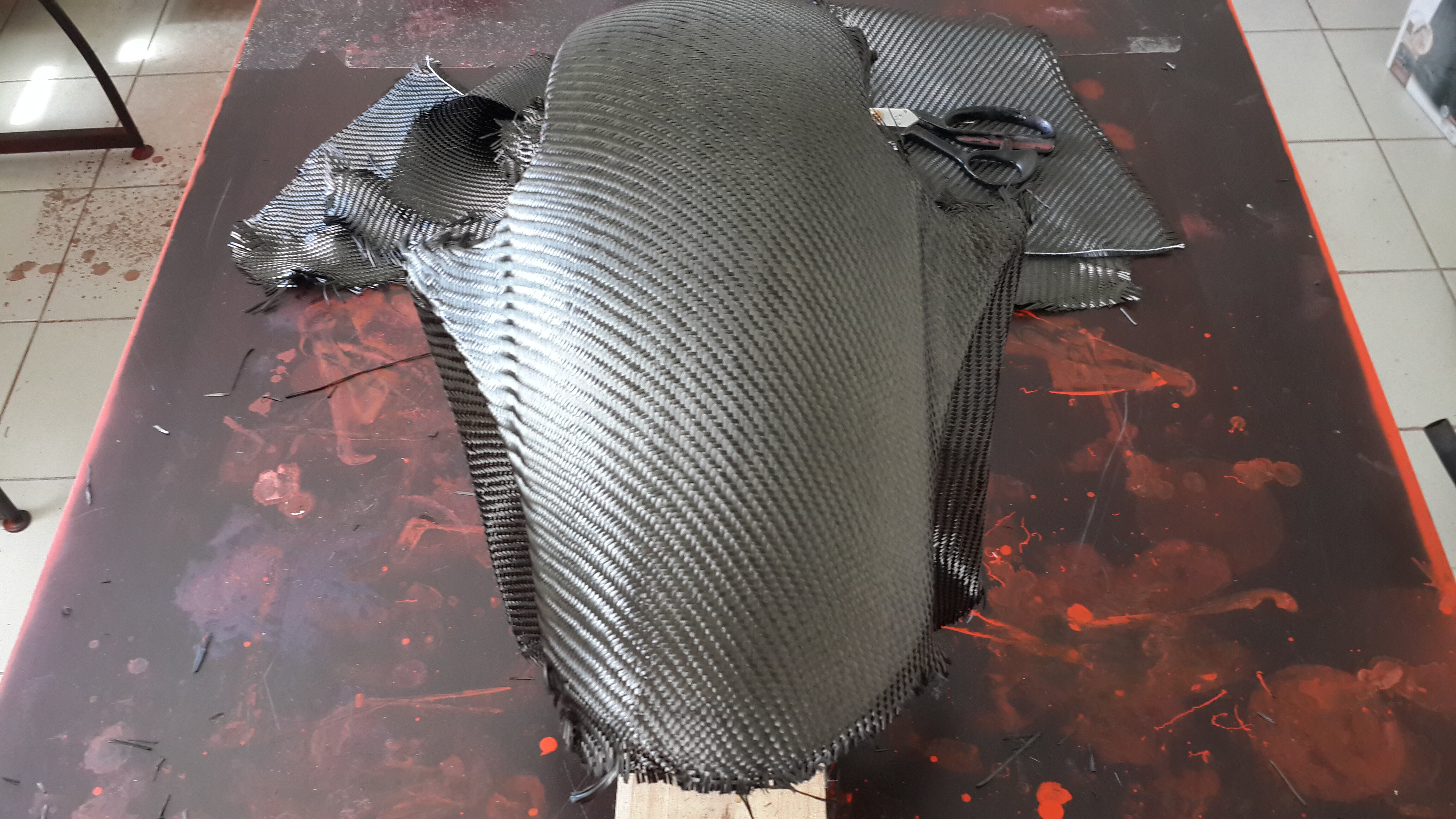 ​
Step 6: Cleaning and polish
When the detail is well sanded you should apply a layer of clearcoat. This is important because the part needs to be protected from the UV rays. Spray clearcoat onto the detail evenly and wait for it to cure. Then the part is ready.